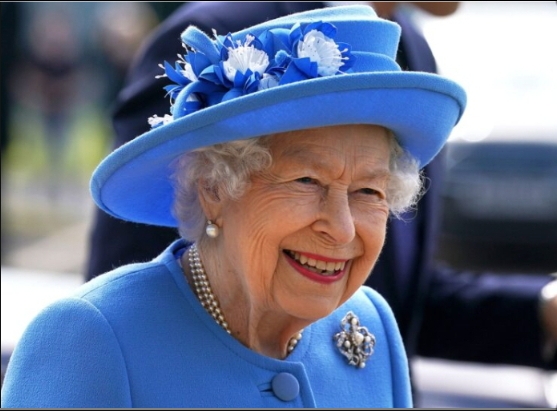 The vox-pop: Should Africans hold the late Queen Elizabeth  responsible for the evils of colonialism, neocolonialism and apartheid? What's your view on the tweet by Prof. Uju Anya of the Carnegie-Mellon University?
The death on Thursday of United Kingdom's longest reigning monarch, Queen Elizabeth II, has given a new impetus to the quest by Nigerian historians and enthusiasts to take a long journey down the memory lane. The social media is awash with what many perceive was the late Queen's uncomplimentary role in the three-year civil war between the federal side and Biafra, the then Eastern Nigeria predominantly occupied by the Igbo.
Aside other allegations of Africa-wide exploitation, many on social media accuse the late Queen and Britain of unfairly arming and supporting General Yakubu Gowon's federal side against Colonel Chukwuemeka Odumegwu Ojukwu-led secessionist Biafra in a war that claimed more than 3 million lives.
The Queen died on Thursday, September 8, 2022 at the age of 96 after for seven decades on the throne during which she saw 15 prime ministers take and leave office.
Just like any other event with global significance, divergent opinions have been shared about her lifetime and role in Africa. While some hail her positive strides, others criticize her style in handling of socio-political and economic issues in countries where the British Government had interest during her 70-year rule. The most significant was the Queen's alleged role in the 'evils' of colonialism, neocolonialism and apartheid in Africa.
In many parts of Africa, including Nigeria, people have challenged the West's claims that the Queen was favorably disposed to justice and equity in her lifetime and called her out for the perceived ills of British colonialism and the South Africa's Apartheid regime.
Nigeria-born Professor Uju Anya of Carneige Mellon University, had stirred the hornet's nest in her Thursday afternoon tweet when the news of the Queen's failing health circulated. She had wished her "excruciating pain" on her dying bed. "I heard that the chief monarch of a thieving raping genocidal empire is finally dying," "may her pain be excruciating," Prof. Anya had twitted a few hours before the death of Queen Elizabeth.
Indeed, Prof. Anya's tweet sparked a chain of reactions. Some condemned her; others expressed solidarity. The Professor was not remorseful. She replied: "If anyone expects me to express anything but disdain for the monarch who supervised a government that sponsored the genocide that massacred and displaced half my family and the consequences of which those alive today are still trying to overcome, you can keep wishing upon a star."
With the above two straight questions, Prime Business Africa (PBA) went to town in Nigeria to feel the pulse of the people regarding the controversy.
Of course, while some respondents agree with Prof Anya's claim, others like Solomon Buchi, a popular Nigerian life coach, disagree with her views. Buchi said "Nigerians love victimhood. Yes our lands were invaded, our children abused and sold as slaves, but it has been 62 years since we became independent, what have we done better?" Jeff Bezos had in a tweet also expressed his disappointment on Anya's comment.
Clinton Udeh, an Enugu-based medical doctor, said Prof. Anya is right in her comment about the Queen's role in the British colonial activities in Africa. He claimed that what a certain section of the country suffers today in the form of injustice, marginalization and general poor leadership is due to the vestiges of political structure set during the colonial period that happened under the Queen's watch. "Yes, this woman is actually right" (referring to Prof. Anya). The evils of colonialism and Apartheid happened under her watch."
Kenechi Okafor, a 21-year old graduate currently on his mandatory one year national service, said "she did not start colonialism but did not try to stop it; she benefited from it."
Yet a few others disagreed and refused to link the Queen with negative events during the colonial period.
20-year-old Ayodele Akintola said the Queen could not have been absolutely responsible for all the negative things associated with colonialism and no one should blame her for what happened then.
Another NYSC member in Lagos, who identified herself as Peculiar, said: "We were colonized under her reign, but we also got independence under her reign. From then till now, we've had six good decades to correct the wrongs, ills and evils." She further said, "even though we were wronged by the Queen, we have had 60 years to correct those wrongs."
Chibundum Ahanotu, a Lagos-based philosopher, said the whole idea of colonialism did not start with the Queen even though many African nations got independence during her reign. He said, "I am not being biased; I'm an African. There are many questions on issues that have happened that need to be answered. It is worthy for us to note that colonialism had started before the Queen was even born. Nigeria was amalgamated in 1914 while she was born in 1926 and came to the throne in 1952."Queen Elizabeth II
While insisting that the Queen should not be blamed for evils of colonialism in Africa, he pointed out that it came in different forms from different countries. "There were different forms of colonialism in Africa and the Queen is not to be blamed for all that. We have the ones that came with the French Crown; the ones that came with the Spanish Crown, the Portuguese all colonized Africa."
He said that for the Anglophone countries, the Queen should not be fully held responsible for the atrocities committed then. "I would say that the late Queen should not be fully blamed for the atrocities of colonialism in Anglophone countries. I am always against the blame-game. Before we blame the Queen, let us examine ourselves. They granted us independence in 1960, they left but did not fully live. What I mean by that they did not live is because our brothers are the enablers of this neocolonialism which we are suffering today. For crying out loud we are 62 years as a country yet we don't have anything to show for it. But when we want to give excuse for such failure we blame the colonial rule. That is what we Nigerians are doing.
"We cry foul of colonialism; I can tell you that even China was colonized and gained independence almost the same time we gained independence, but look at China today, it was able to lift 500 million people out of poverty."
He added that, given the number of years Nigeria has spent since independence, some of the citizens still blame British colonial rule, while they support bad leadership that has kept the country stagnated in terms of development.
He said the political leaders steal the common wealth of the country for self enrichment and the citizens don't hold them accountable, but turn around to blame the Queen for British colonial role in the Nigeria, arguing that the country's economic resources were stolen then.
On Apartheid, Mr Ahanotu agreed that South Africa had a very terrible experience, "but today what is happening is totally different, as Africans are now antagonizing themselves as witnessed during cases of Xenophobic attacks in the recent past. "Each time we bring up the case of Apartheid, we see Africans who are very, very angry about it, but in the same South Africa, we have xenophobia whereby even Nigerians who helped them fight Apartheid are being killed too.
"The day they will respect Africans is the day Africans say yes to a better continent."
He noted that although colonialism had its negative sides in the continent, the question is, however, what the people have been able to do to bring development many decades after independence. He added that Africans don't like to accept responsibility where they have failed but push it to the West on the ground of colonial political and economic exploitation.
The death of the Queen has also resurrected discussion about the role of Britain in the Nigeria-Biafra Civil war of 1967 to 1970 in which it was said to have supported the Nigerian government.
Some have been circulating online, part of a letter purported to have been written by the late Akanu Ibiam to the Queen had accused the British Government of not playing a neutral role in the war that led to death of many on both sides.
Talking about the role of Britain in the civil war, Mr Ahanotu said Nigerian leaders were then the enablers of the war. He argued that if they had paid attention and respected all agreements reached via the Aburi Accord, the war wouldn't have occurred and Britain wouldn't have come in to help any side.
"If they saw Africans as people who could stand on their own, I don't think they would come in and disrupt a standing nation. We are the enablers of neo colonialism, until we stand up against it, we will continue to push blame everyday of our lives even with a mosquito bite.
"Our sad history weren't made and documented to keep us perpetually aggrieved victims rather, an understanding of such history is a right step toward building a better future, and by so doing, avoid being enablers of another sad history,' Ahanotu concluded.
Gabriel Opeifa, Principal of Maravilla International School, who also spoke to Prime Business Africa on the matter, said the answer to whether Africans should hold the late Queen responsible for the evils of colonialism, neocolonialism and apartheid would be "Yes and No." He said the late monarch could be blamed in a way but not for everything that happened.
"No, because Colonialism predated the reign of the Queen. She began reigning in 1952 but colonialism has been on much before then.
"Yes, because her parents and grand parents were the ones in power when the evil started. There was no significant effort recorded to her credit that she made to take a clear stand against the evil."
Reacting to Prof. Anya's outburst on Thursday, Opeifa said her reaction was a result of age-long resentment of the Igbo people over their horrible experience during the civil war.
He asserted that the Igbos believed that the Queen could have used her influence to intervene and help the situation, but her disposition indirectly supported the war against them.
"For Prof Uju, her comment stemmed from the root of bitterness. The memories of the genocide committed against the Igbos during the civil war can not be easily forgotten, especially by those who were direct recipients and their offspring.
"The body language of the Queen supported the war against the Igbo. The Igbo also believed she had enormous influence to have waded in, prevent the war and help the situation.
He however, pointed out that paying the Queen back for what happened then with evil wish in her dying period as displayed by Prof. Anya was not the best.
"The truth is that paying evil with evil wish can not resolve the issue on ground. Forgiveness is key here. Igbos need a strong leader to champion the healing process for them, he added.
One Iranse while reacting to the blames on the British Crown for Nigeria's woes wrote on Twitter that a country like Singapore that was colonized by Britain for over 150 years, today, has higher GDP per capita than even Britain, while Nigerians continue to cry foul of what happened during the colonial era.
"Singapore was colonized by the British for over 150 years in total. Nigeria was colonized by the British for effectively 75 years.
"Singapore GDP per capita – $59,798; Britain GDP per capita – $40,285; Nigeria GDP per capita – $2,09.
"Keep crying about colonialism. You hear?" @DrFeruke tweeted.