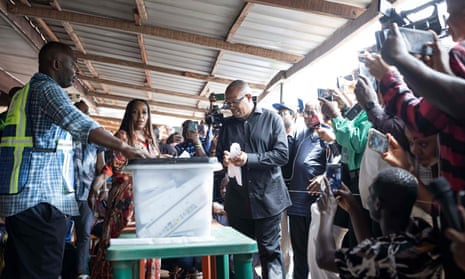 The Guardian view on Nigeria's election: A fresh start? Not this time
It is perhaps unsurprising that many Nigerians are dissatisfied with the outcome of the presidential election. The winner, Bola Tinubu of the ruling All Progressives Congress (APC), ran on the slogan "It's my turn". It seemed to epitomise the uninspiring campaign of an immensely wealthy veteran powerbroker trailed by corruption claims, which he denies. The main opposition Peoples Democratic party (PDP) candidate, Atiku Abubakar, and the outsider challenger, Peter Obi of the tiny Labour party, want the results scrapped, citing problems with both voting and counting. On any account, Mr Tinubu hardly gained a ringing endorsement, with just 37% of the vote (and less than 10% of those registered to cast a ballot), while the PDP took 29% and Mr Obi 25%.
Under the APC's Muhammadu Buhari, Africa's most populous country and largest economy, with dynamic arts and culture, and a thriving tech sector, has endured two recessions, high inflation and low growth. A botched attempt to replace banknotes worsened matters. In a global index of the commitment to reducing inequality, Nigeria ranks 159th of 161 countries. Multiple security crises include jihadist insurgencies in the north-east, deadly clashes between farmers and herders, and kidnappings by armed gangs. The state has proved both ineffective and brutal, as its bloody suppression of the mass #EndSars protests against police abuses showed. Many Nigerians are voting with their feet.
The hope of a fresh start produced a surprise surge for Mr Obi, who won not only the capital, Abuja, but also Lagos, the country's economic hub and Mr Tinubu's former fiefdom. If not exactly an outsider – the 62-year-old businessman is a former state governor and previously ran as the PDP's vice-presidential candidate – his energy, frugality and commitment to reform and bridging ethnic and religious divides stood in sharp contrast to his rivals. But despite inspiring grassroots fervour, especially among the young, he faced an uphill struggle without major resources or a serious party machine behind him.
The turnout was strikingly low even by Nigeria's usual standards – down from 35% of those registered to vote in 2019 to just 29%. Though the polls themselves were mostly peaceful, turnout was affected by fuel and currency shortages and insecurity, and there was evidence of voter suppression in places. Many electors missed their chance because voting sites opened hours late. Yiaga Africa, a leading civil society organisation, and EU observers both expressed concerns about the process. The election commission had raised expectations by promising the most technologically advanced contest yet, with a new electronic voting system delivering results within hours. Its failure meant days of collating results by hand, which only fuelled opposition suspicions.
This was the country's seventh election since the end of military rule in 1999, and its most competitive. It offered welcome hope that the rotation of power between the two main parties might end. Mr Obi is now better positioned for the next contest. He has also demonstrated voters' hunger for something better; some hope that might prod the main parties to shape up. Others suggest that Mr Tinubu could outperform low expectations, suggesting that Lagos's development when he was governor shows that he at least knows how to get things done within a deeply flawed political system. But whatever result this election returned, it needed to deliver it as cleanly and efficiently as officials had boasted it would. The government can hardly complain if voters feel short-changed by the process and its result.
© 2023 Guardian News & Media Limited or its affiliated companies. All rights reserved. (modern)