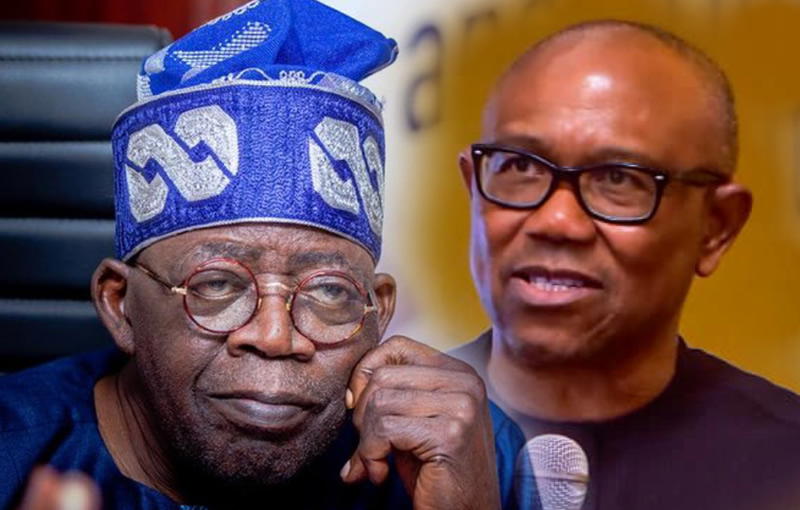 A friend of mine sent me a text message the other day: "Ikechukwu, please stop this fight. This election has been won and lost and it is high time we moved forward. Lamenting over spilt milk is an exercise in futility and if you are close to Peter Obi, please tell him to give peace a chance and allow the President-elect, Asiwaju Bola Ahmed Tinubu, to get on with the job. His insistence on challenging the outcome of the election in court is a disservice to the nation. He should withdraw it and seek accommodation in the incoming administration." Really? I shook my head in disbelief because this is someone I thought I knew well enough, including his political views. He was an advocate of social justice and a rule of law enthusiast, who had always encouraged those short-changed at the polls by electoral bandits to seek redress in court.
After the 2007 elections, he became an implacable foe of the then Independent National Electoral Commission, INEC, chairman, Prof. Maurice Iwu, who he accused of conducting a "sham election". So, what has changed? The answer is simple: unlike in the 2007 polls, the primary beneficiary of the 2023 electoral perfidy is his kinsman – Bola Tinubu. And because of that, what was wrong in 2007 is deemed right in 2023.
My friend adorns himself in the borrowed garb of political progressivism, because he claims to hold firmly to the belief that it is possible to improve human societies through political action. Of course, he is a member of the All Progressives Congress, APC, the party that has orchestrated the worst electoral fraud since the return of Nigeria to civil rule in 1999. The APC is the antithesis of progressive politics because as a political movement, progressivism seeks to advance the human condition through social reforms.
But since the APC came into existence on February 6, 2013, all the values that drive progressivism have been thrown to the dogs. President Muhammadu Buhari, the man who shouted himself hoarse complaining how he was rigged out in three previous elections so much so that his followers, who actually believed he was cheated in the 2011 presidential election, murdered more than 800 innocent Nigerians and displaced more than 65,000 people in three days of rioting in 12 Northern states, has today presided over the worst elections in Nigeria.
Buhari knew that he had no chance in hell of winning any of the elections prior to 2015, yet he claimed he was cheated. In fact, Corinne Dufka, the then senior West Africa researcher at Human Rights Watch, said the elections which were among the bloodiest, were also "heralded as among the fairest in Nigeria's history" and urged that "the newly elected authorities should quickly build on the democratic gains from the elections by bringing to justice those who orchestrated these horrific crimes and addressing the root causes of the violence."
Of course, nothing was done by the lily-livered and pusillanimous Goodluck Jonathan administration. The self-styled Nigerian progressives had become untouchables even before they came to power in 2015 and in the eight years they have been in power, they have succeeded in turning a "rotten situation to a bad one" – apologies to Tinubu.
In the ensuing eight years, they have repudiated all they stood for before 2015, thereby exposing themselves as hypocrites and pretenders. Democracy has become a charade under their watch. Nigeria has been reduced to a laughing stock in the comity of democratic states. The country's debilitating fault lines have been hideously magnified by the self-styled Nigerian progressives to the extent that today, Nigerians, bonafide citizens, are physically stopped from exercising their franchise by non-state actors with the Nigerian state doing nothing. That is how low the self-styled Nigerian progressives have sunk. To add insult to injury, they have, through Mr. Bayo Onanuga, Director, Media and Publicity of the All Progressives Congress Presidential Campaign Council, sounded a note of warning that it will be worse in 2027. The self-styled Nigerian progressives are busy constricting the country's democratic space. It has become a norm that people can only exercise their franchise without molestation in their states of origin unless they are prepared to vote for the party of the political overlord in their states of residence.
That is the real import of Onanuga's admonition when he warned Igbo residents in Lagos against interfering in the State's politics. "Let 2023 be the last time of Igbo interference in Lagos politics. Let there be no repeat in 2027. Lagos is like Anambra, Imo, any Nigerian state. It is not No Man's Land, not Federal Capital Territory. It is Yoruba land. Mind your business," Onanuga said, tweeting a photo of Peter Obi, presidential candidate of the Labour Party, who expectedly backed Gbadebo Rhodes-Vivour, a Yoruba from Lagos, and candidate of his party in the governorship election. Criticised for his incendiary tweet, Onanuga doubled down on his ethnic slur against Ndigbo in Lagos, insisting that they are "existential threats" to the Yoruba.
"Let me make myself abundantly clear: the views I express on Twitter are my personal views," Onanuga said. "I don't owe anyone any apology for addressing the existential threats of our people. I am after all, first of all a Yoruba, before being a Nigerian," he added. Of course, he lied, as usual. The views he expressed are not personal. They wholly represent the views of his benefactor, Bola Tinubu, and his jaded political machine. What is true, though, is that his views do not reflect the position of the average Yoruba, who have no beef with Ndigbo living in the Southwest and many of whom voted for the Labour Party, the same way some Igbos in the Southeast voted for APC.
These self-styled Nigerian progressives are ethnic and religious jingoists, yet, they are busy accusing every other person other than themselves of bigotry and narrow-mindedness. I never intended to dignify Onanuga's puerile tantrums with any response because I don't begrudge him for making the most of his day in the sun. He is behaving true to character. Public office has a way of exciting him. Shortly after he was appointed the Managing Director of the News Agency of Nigeria, NAN, in 2016, he caused a stir when he claimed that the "so-called hardship" in Nigeria was a mere propaganda orchestrated by the media. "Are the media and bloggers really painting a correct image of our country? It's time for the media to objectively conduct a reality check about our reports, whether we are not over sensationalising so-called hardship that we talked about," he said on Facebook.
Onanuga gave three examples to justify his claim: one, his daughter's flight aboard Virgin Atlantic from Lagos to London, which she claimed was full. Two, he claimed to have travelled to Bauchi and Jos where his plate of food in the hotel was N700. Thirdly, he claimed that even in Abuja, he was able to make a full pot of vegetable soup with just N1,400. He thus blamed the media for blowing the "so-called hardship" in Nigeria out of proportion, insisting that it was "mere propaganda, consistently and persistently" inflamed by those who lost the 2015 election to make the Buhari administration look bad. When called out by Nigerians, victims of the Buhari misrule, Onanuga doubled down as he has done with his anti-Igbo tweet. "Lynch-mob, cyber-hyenas, cyber-vandals, character assassins: this is the motley crowd that has seized Nigeria's social media space, either on Facebook or Twitter or Instagram," he said. Whether Onanuga decides to retract his incendiary comments or not is neither here nor there because it is what it is – the ranting of a coward. A million Bayo Onanugas cannot cow Ndigbo into submission. He is old and knowledgeable enough to know better. And no matter what he does, he cannot incite the Yoruba against Ndigbo because while it is true that he is Yoruba, he is in no position to speak for that race of people of noble and pristine heritage who really know what the issues are.
By Ikechukwu Amaechi